When it comes to quality services and workmanship Acuaprof is 100% committed to its clients. From our headquarters located in the Greater Toronto Area (GTA), we provide our  business and residential clients with the highest quality services.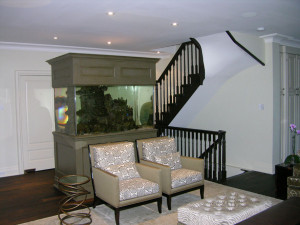 We…
design aquariums to our customer's specifications;
sell, install and maintain complete aquarium systems;
consult and make appropriate recommendations based on the overall design and size of aquariums;
build tanks to any size, coupled with the engineered filtration systems;
build and implement saltwater, as well as, freshwater aquarium systems;
provide only high quality materials from the most renowned aquarium brands, for new or renovated aquarium projects;
partner with the industry leaders, to provide the widest selection of aquariums, cabinetry, filtration and lighting, in order to meet and exceed our clients' needs;
Acuaprof's philosophy for aquariums is one which brings business executives or families together, in a relaxing and calming environment. From signing a contract, to having lunch, dinner, or simply enjoying company.